This post contains affiliate links, and we may receive a small commission if you purchase through our site.
Need a gift for someone who's eating keto or low carb? Or how about yourself? This is the ultimate keto holiday gift guide with over 50 keto gift ideas that fit all budgets.
This list is constantly updated and separated into categories so that you can find the best for anyone this year. Actually, these are some of my favorite products for snacks to unique kitchen tools.
When it comes to keto presents – or any gifts – our Christmas gift guide will be everything you need. It's divided into categories, so there's something for everyone.
Most of these presents are ideal for anyone's kitchen, even if they don't follow a low-carb diet. So this Christmas gift suggestion is as much for your closest friends and family as for strangers.
What Makes This Keto Christmas Gift Great?
When we created this list of ketogenic gift ideas, we carefully chose items that help your friends to improve their keto diet in at least one of the following ways.
It helps your keto diet to be easier.
Makes your keto diet to be healthier.
It makes it easier for you to cook.
SEARCH KETO GIFTS BY CATEGORY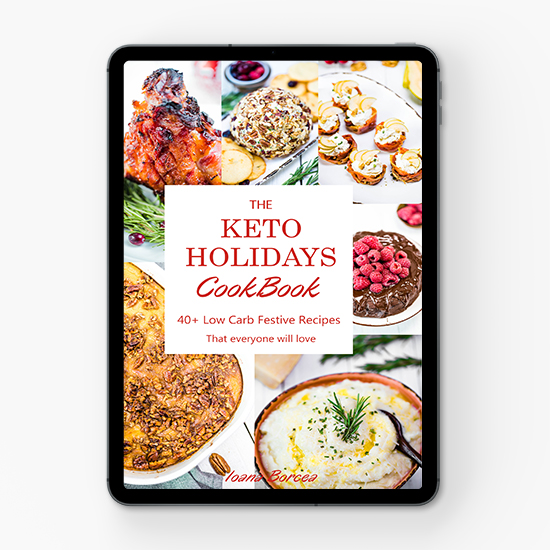 Planning to host a holiday dinner this way and you find it stressful? This digital cookbook is a collection of our favorite crowd-pleasing UNIQUE low carb party recipes, from holiday keto desserts and easy appetizers to main dishes and festive side dish your guests won't forget.
We've included the holiday party classics, like Roast Beef, Glazed Ham, Prosciutto-Wrapped Asparagus, Keto Pumpkin Pie, and Keto Pecan Pie, as well as comfort foods, including soups and desserts. My favorite recipe is the Keto Ginger Bread Cake Roll.
Must-Haves For Every Keto Kitchen
This is such a useful gift with so many functions incorporated in one. It's not only an Air Fryer, but you can roast meat, bake keto desserts and use the Dehydrator and Grill. So easy to use!
A pressure cooker slow cooker, steamer, rice cooker, steamer, saute pan, yogurt maker, and warmer all in one! Since it replaces multiple appliances and can cook things so much faster, it makes a perfect gift for anyone looking to save time or space in the kitchen.
It's perfect for heavy, dense mixtures. Burnished metal flat beater, PowerKnead Spiral Dough Hook and 6-wire whisk will help you mix, knead and whip ingredients into culinary masterpieces quickly and easily. And for even more versatility, the power hub fits optional attachments from food grinders to pasta makers and more.
This is such a perfect gift: more than waffles, you can make famous keto chaffles that are perfect for sandwiches and the sweet ones are perfect for curbing cravings. Kids love these too and you can make keto sandwiches ahead.
What can be better than this gift for a pasta lover that's on a low carb plan? It's the quickest way for you to replace carbs in pasta with numerous healthy vegetables, saving you time, money & improving your health all the while, even if you are on a diet
It's such a great gift! This Ninja Professional Blender is budget-friendly with Single Serve features a pitcher for large batches of frozen drinks and cups to take your keto low carb smoothies on the go.
This little blender is PERFECT for making homemade mayo and blending up creamy soups.
My go-to kitchen tool! This food processor will mix, chop, slice, shred, knead, emulsify, puree, and mix dough. It's even dishwasher safe!!
This powerful machine will enhance your entire espresso, cappuccino, and latte experience. The 19 Bar Pump creates the perfect crema, and bold taste has never been easier. And here's a hint: give someone close to you this coffee maker and it's gonna be a win-win for gifter and giftee!!
This is an awesome gift for any meat lover. Be sure to buy the best meat grinder/sausage maker.
And your dream came true: Never overcook again! This award-winning waterproof thermometer reads temperatures in seconds and comes in lots of different colors.
Make the best veggie chips, and offer your family high in nutrients snacks. The answer is The Hamilton Beach Food Dehydrator who helps you accomplish these goals by taking food preparation to the next level.
Another win to win gift!! This set is perfect for cooking any of my keto desserts and special mains. Give them this awesome set, which includes a cookie sheet, half sheet, loaf pan, cake pan, square cake pan, and 12 cup muffin pan to a person who loves cooking.
The best pan for stunning holiday dishes! This roaster pan promises a perfect dinner for you and your family!!
I love this measuring spoons set. They are so cute and practical! These stainless steel spoons can fit into narrow spice jars and measure liquid and dry ingredients. Clever design!
Short on time? Simply prep your eggs, fill the silicone molds, cook, and eat! The auto-shutoff function prevents overcooking, and the buzzer will alert you when your eggs are ready It's so simple, even your kids can use it
From creme brulee, baking, toasting marshmallow, searing a steak, roasting peppers, BBQ grills to crafting, jewelry making and soldering, Homitt multi-purpose butane torch with safety lock feature is your ideal choice to create a memory of cooking or DIY with your families or friends.
Here is a perfect gift for cooking lovers: stronger than stainless steel cookware, the hard-anodized aluminum exterior is dense, nonporous, and highly wear-resistant for the ultimate professional performance.
If you have avocado lovers between your friends, here is a great gift!! There's nothing like the unique flavor that freshly ground peppercorns and herbs can add to a dish!
Red, beautiful and so functional!! Extremely durable with no colorization. Easy clean and perfect to transfer from the kitchen to the table directly.
Make a gift that saves time and money – keeps food fresh up to five times longer than non-vacuum storage methods!!
A keto gift everyone can appreciate! They are Allow you to organize better and control your meals!!
Use this set for everything from keto donuts to keto bagels to cookies. How creative are you?
It's cute and practical!! Cute little mouth increases egg white leakage design, egg yolk storage design that can store two egg yolks at the same time.
Easy to store and use, these strainers are so versatile and there's a perfect size for any cooking needs.
Multi-Speed and Turbo are All In One Button, to help you make food even faster.
Organize pans, platters, and cutting boards in the lower cabinet or pantry!!
A perfect gift for the on-the-go friend in your life that always packs their lunch!!
A great small appliance to store food, drinks, beer, snacks, breast milk, insulin, cosmetics, and skincare. This also works as a personal skincare fridge which makes it an ideal gift for women.
This meat injector is quicker and adds instant more intense flavor and moisture to the meat for succulent, finger-licking dishes every time.
Simply choose how many bubbles you'd like and add some fun to your fizz with our better-for-you flavors. Not only will your taste buds thank you for the bubs, but you'll also be doing your part to reduce single-use plastic bottles.
We, coffee lovers, are serious when it comes to our coffee, so make rich, creamy froth in seconds.
For the griller friend who has everything, a smoker is bound to be next on their list!
Bring precision and convenience to your friend's kitchen. With easy-to-use features and a unique design, the Cosori Original Electric Gooseneck Kettle makes brewing your favorite cup even more satisfying.
Presented in a beautiful Gift Box makes the perfect tea gift for Christmas, Women & Men's birthday, and all occasions.
Bring out your inner chef with this elegant kitchen tool kit that makes you own your kitchen. There is nothing better than that moment when you've got the right spatula or wire whisk in your hand for the very first time and you realize the secret of cooking is in the right tool for the job.
That's why everyone who loves whipped cream needs their own cream whipper! And you can make sugar-free whipped cream!
If you always wash your greens before eating it would be nice to have a way to dry them out quickly.
Everything you need in this multifunctional all in one kitchen gadget. 7 easy-to-change inserts including two different sized chopper blades and two spiralizer inserts give you the option of broad ribbons or thin spirals.
I love the idea of a hydroponic garden and would love to try one of the AeroGarden herb kits to see if I can keep the herbs alive.
Properly sharpened knives make food prep faster and easier, giving you clean and precise cuts no matter what you're chopping, slicing, or dicing.
Make your next party a Fiesta! The Prepworks by Progressive Guacamole Bowl is great for serving your homemade Guacamole and more!
For the Keto Foodie
If your giftee loves baking, these are the best things you can get. They are the highest quality keto gluten-free flour! The best part is when you give these to a passionate keto baker, you'll get to enjoy delicious keto desserts.
This is my favorite go-to snack when I'm traveling and I always have a packet in my purse. They are super filling, natural and keto friendly.
This bundle is perfect for every keto beginner that plans on starting this lifestyle. It contains Exogenous Ketone Base, Keto Collagen, MCT Oil Powder, and Ketone Testing Strips. You can use my code "LOWCARBSPARK15" to get a 15% off to some delicious keto snacks on the site!
This keto snack boxes includes best selling & newly released snacks like Keto Granola and Trail Mix bars and Candied Maple Pecans.
Perfect for any keto recipe, this set of spices is perfect for a kitchen lover.
READER FAVORITES
The full recipe is in the recipe card below. Readers that love this aslo made these recipes: